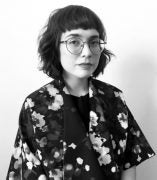 Deanna Ledezma
PhD, 2022: History and Theory of Photography and the Material Culture of Memory in the United States
About
Deanna Ledezma (Ph.D., Art History, 2022) specializes in the history and theory of photography, Latinx art and visual culture, and material culture studies. Her dissertation "The Fecundity of Family Photography: Histories, Identities, Archival Relations" examines how the uses and ways of relating to photographs redefine and reframe what is regarded as a family photograph and what "counts" as family. Beginning in the late nineteenth century and concluding in the present day, her dissertation chapters are situated in multiple regions of the United States, including the Mid-Atlantic, Midwest, Southwest, and Texas Hill Country. Anticipating how superficial resemblances contribute to anachronistic correspondences and the erasure of meaningful differences concerning race, ethnicity, gender, and class, this dissertation analyzes the social and historical contexts in which photographic materials were produced, circulated, and continue to be seen.
During her graduate studies, she was awarded the Santa Fe Art Institute Truth and Reconciliation Thematic Residency, the Inter-University Program for Latino Research (IUPLR)/Mellon Dissertation Fellowship, the Edman-Waltz Fellowship, the Abraham Lincoln Fellowship, the Diversifying Higher Education Faculty in Illinois Fellowship, and the Chancellor's Graduate Research Award. She has also served as the Graduate Academic Advisor for the Latin American and Latino Studies Program at UIC and the Research Assistant for the IUPLR/Mellon Program.
In addition to her research-based scholarship, she also writes creative non-fiction based on her own family's photographic collections and their experiences as Mexican immigrants.
Publications:
"#WeFeedYou: The Digital Activism of the United Farm Workers on Instagram," co-written with Josh Rios, in Re: Working Labor, edited by Ellen Rothenberg and Daniel Eisenberg. Chicago: The Institute for Curatorial Research & Practice at the School of the Art Institute of Chicago (forthcoming, 2022)
"Dismantling Latinx Monoliths: Representations of Material Culture, Communities, and Kinship in 1980s Chicago." In The Routledge Handbook of American Material Culture Studies, edited by Kristin Hass (forthcoming, 2022)
"Selecting Views of Las Trampas: Contact Sheets by Fred E. Mang Jr. and David Jones at the New Mexico State Records Center and Archives." Photography & Culture 14, no. 1 (March 2021): 1–13.
"Regarding Family Photography in Contemporary Latinx Art." Art Journal 79, no. 3 (Fall 2020): 80–89.
We Eat All the Way Down to the Green, chapbook for Re: Working Labor, exhibition curated by Ellen Rothenberg and Daniel Eisenberg, School of the Art Institute of Chicago Sullivan Galleries, 2019.
Corona: Shadows of the Loved. Memphis: Walls Divide Press, 2018.
"Arrangements." In Imperceptibly and Slowly Opening: A Group Exhibition about Plants, edited by Caroline Picard and Devin King, 174–187. Chicago: Green Lantern Press, 2016.
Education
Ph.D. in Art History, University of Illinois at Chicago, 2022
Master of Arts in Art History, University of Illinois at Chicago, 2012 Master's Thesis: "This Memento Strangely Fair: Hairwork Jewelry in America"
Bachelor of Arts in Art, Emphasis in Art History, Texas State University, 2010
Bachelor of Arts in English, Minor in Media Studies, Texas State University, 2009