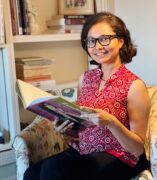 Humaira Hossain
PhD Student: South Asian art
About
Humaira Hossain is a first-year Ph.D. student in Art History at the University of Illinois Chicago.
For her doctoral study, she will focus on the works of modern and contemporary South Asian
painters. She wants to track the cultural, social, and political consciousness of an aspiring nation
in the works of modern Bangladeshi painters; before and after the turbulent time of war for
independence in 1971. Her research will contribute to the collective understanding of artistic
interventions manifesting spatial and geopolitical identity.
Education
Humaira graduated with an MA in Art History from Louisiana State University in 2020 and a BFA
from the University of Dhaka in 2017.