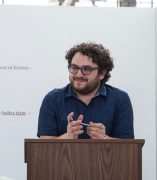 Julian Adoff
PhD Candidate: Modern Art and Design of Central Europe
Pronouns: He/Him/His
Email:
CV Link:
Related Sites:
About
Julian Adoff is a PhD Candidate in Art History at the University of Illinois at Chicago. Julian maintains both research and studio practices, which often intertwine. His research investigates artists' roles within the history of nationalism in Central Europe in the nineteenth and twentieth centuries. Drawing on Critical Theory, Jewish Studies, and the History of Graphic Design, Julian aims to understand the roles of identity played in the formation of collective consciousness. Julian has a concentration in Central and Eastern European Studies at UIC and his research has been supported by the Provost Graduate Research Award. He graduated from Pacific Northwest College of Art in 2019 as the first dual degree student and received an MA in Critical Studies and an MFA in Visual Studies. He received his BA in Studio Art and Visual Culture from Linfield College in May 2016. Julian's studio practice explores the notion that research is a creative act, where he explores the Jewish mysticism inherently found within the history of critical theory and art history and tries to tease these out by searching in and between texts.
Selected Publications
In Progress: "Ugly and Out of Sight: Reconsidering the Irrational in Walter Benjamin's Theory of Allegory." Solicited by Brian Winkenweder and Tijen Tunali for their edited volume, Routledge Companion to Marxism(s) in Art History. (2024)
Review of Rampart Nations: Bulwark Myths of East European Multiconfessional Societies in the Age of Nationalism, by Liliya Berezhnaya and Heidi Hein-Kircher. Slavic & East European Journal 64, no. 3 (Fall 2020): 562–63.
Education
MFA Visual Studies, Pacific Northwest College of Art, 2019
MA Critical Studies, Pacific Northwest College of Art, 2019
BA Studio Art, Linfield College, 2016