Call for Applicants: Bridge to the Faculty Postdoctoral Research Associate in Art History (African, American, African Diaspora and/or Black-Indigenous Art)
The Department of Art History at the University of Illinois at Chicago (UIC) invites applications for a "Bridge to the Faculty" postdoctoral Research Associate in the arts of Africa and/or its global diasporas, to begin on August 16, 2021.
The Bridge to the Faculty program is funded by the Chancellor's Office and administered by the Office of the Provost. It has been designed to diversify the faculty by attracting and retaining promising scholars from groups that have been historically underrepresented in Art History. Successful postdoctoral associates with department approval will have the opportunity to transition to faculty starting in the 2023-2024 academic year. In addition to mentorship within Art History, the research associate will participate in a cohort-based mentoring experience through the Office of the Vice Provost for Diversity, where they will have the opportunity to meet other Bridge to the Faculty Scholars.
This postdoctoral position will bolster a critical and self-reflexive understanding of the discipline of Art History as a product of colonial modernity. Research specialization is open to any time period, but the department is particularly interested in scholars who are committed to recent methodological perspectives and critical engagement with current debates within and beyond the discipline of art history. We are particularly interested in applicants who demonstrate a commitment to interdisciplinary dialogue, theoretical fluency, and research interests that enlarge current faculty strengths. Interest in and capacity to contribute to the department's program in museum studies is also encouraged.
The successful candidate will be expected to be able to teach one or more survey courses related to the arts of Africa and its global diasporas, such as African Art and Architecture, African American Art, Arts of the Black Atlantic, or other topics of similar breadth, as well as more focused seminars for advanced undergraduate and graduate students on topics related to their specific research interests. The postdoctoral associate will only teach one course per year during an initial two-year term, after which period there is the possibility of transitioning into a tenure-track faculty position with a teaching load of two courses per semester.
Located in the heart of one of the most vibrant cities for art and architecture in the United States, UIC is a comprehensive public urban research university with an exceptionally diverse student body and a strong tradition of support for difference and equality. UIC's College of Architecture, Design, and the Arts and its School of Art and Art History are committed to engaged scholarship, social justice initiatives, and digital humanities.
Applicants are expected to have completed their PhD no later than August 16, 2021 (the start date of this position), and no earlier than August 16, 2017. All application materials must be received by January 29, 2021. Submit the following to the UIC job board at jobs.uic.edu:
Cover letter describing their current and future research plans as well as teaching experience and aims
A one-page statement of contributions to diversity
Curriculum vita (CV)
A writing sample (a dissertation chapter plus abstract and/or a related publication)
Contact information for three academic references
The University of Illinois at Chicago is an Equal Opportunity, Affirmative Action employer. Minorities, women, veterans and individuals with disabilities are encouraged to apply.
Offers of employment by the University of Illinois may be subject to approval by the University's Board of Trustees and are made contingent upon the candidate's successful completion of any criminal background checks and other pre-employment assessments that may be required for the position being offered. Additional information regarding such pre-employment checks and assessments may be provided as applicable during the hiring process.
The University of Illinois System requires candidates selected for hire to disclose any documented finding of sexual misconduct or sexual harassment and to authorize inquiries to current and former employers regarding findings of sexual misconduct or sexual harassment. For more information, visit https://www.hr.uillinois.edu/cms/One.aspx?portalId=4292&pageId=1411899
Why are you an Art History major?
Why Study Art History at UIC?
What is Art History?

Art History is the critical inquiry into the ways people have reimagined their worlds through painting and sculpture, architecture, photography, film, performance, and design. More than anything else, it is a history of creativity. Students with the capacity to think critically and creatively about how visual forms communicate across cultures will be prepared for our increasingly global, complex, and image-saturated world.

Art History at UIC

UIC Art History introduces students to works of art, architecture and design that have changed the course of history. Classes cover all historical periods and most of the world's cultures. Students are trained in the fundamentals of critical thinking, historical analysis, visual literacy, and theoretical understanding. These are skills that are evermore important in our evermore visually mediated world.

Art History in Chicago

Chicago's vibrant and turbulent history, its outstanding art and architecture, its acclaimed community of scholars, and its richly endowed museums and libraries offer an exceptional setting for the study of art, culture and the urban environment. UIC's own cutting-edge Gallery 400 and dynamic Jane Addams Hull-House Museum offer hands-on opportunities for students to work with leading arts and cultural institutions.

Careers in Art History

In addition to going on to successful careers in education and museums, graduates work in advertising, arts administration, business, conservation, education, historic preservation, journalism, law, medicine, publishing, and libraries. As more and more jobs are taken by machines, the core skills of critical thinking, visual literacy and intercultural communication are evermore fundamental for most careers.
News and Events

Friday, 4:00 pm–6:00 pm
Zoom (for a link contact arthistory@uic.edu)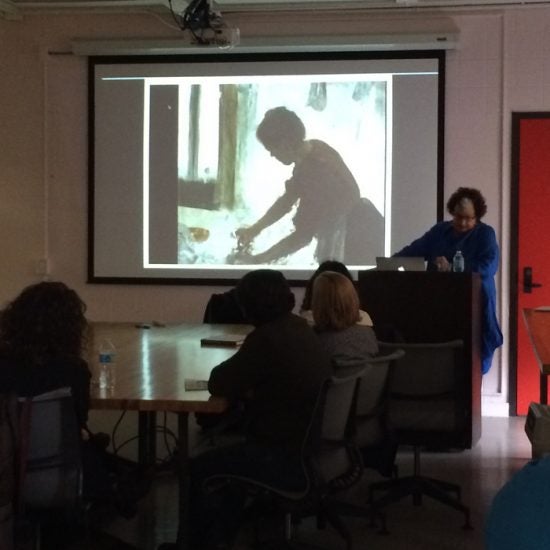 Support UIC Art History
The Peter Bacon Hales Scholarship Fund, in support of graduate students of Art History engaged in the interdisciplinary study of American culture, construed broadly.
The Ross Edman Fund, for scholarships for the benefit of students in Art History.
The David Sokol Fund, supporting the study of American Art.
The Circle Professorship Fund, supporting Art History scholarship.
The Art History Annual Fund, supporting the Department of Art History.
Or, start the YOUR NAME HERE Fund, supporting Art History according to your vision!
For more information