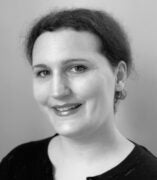 Marie-Agathe Simonetti
MA, 2016: Photography in Colonial Vietnam
About
After her MA in art history at UIC, Marie-Agathe was accepted into the art history PhD program at the University of Wisconsin-Madison. Her dissertation "Photography in Indochina: Politics, Press, and War in Saigon, Hanoi, and Paris, 1897–1954" focuses on photography produced in Vietnam during the French colonization. Her research has been supported by the German Center for Art History in Paris, the Vietnamese Study Group, the École française d'Extrême-Orient, UW-Madison's Center for Southeast Asian Studies and its Graduate school. She was also a FLAS fellowship recipient.
In May 2022, Marie-Agathe presented her research at the Musée du Quai Branly in Paris for a panel on Vietnamese photography. The event was well attended.
She is currently teaching at the School of the Art Institute.