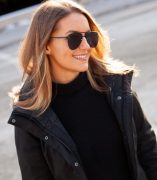 Amara Andrew
MA, 2018: Early Modern European Art
About
Hi there! I currently work as the Processing Archivist in Special Collections and University Archives at the University of Illinois at Chicago. My passions in life are art, history, and (you guessed it!) art history!
I received my MA in Art History in December 2018. My thesis, entitled "Another Way to Consider Absorption: Anxiety about Domesticity in the Paintings of Chardin and Greuze," critiqued Michael Fried's "Absorption and Theatricality" while also delving deeper into the ways in which Jean-Baptiste Siméon Chardin and Jean-Baptiste Greuze portrayed their female subjects.
Prior to attending the University of Illinois at Chicago, I received my Bachelor of Arts in Art History from Columbia College Chicago. My undergraduate thesis was called "Rediscovering the Authoritative Female Figure in Italian Renaissance Portraiture," and focused on the representation of Florentine noblewomen, particularly Caterina Sforza, on the portrait medallions they had commissioned.
I have worked at the Robert R. McCormick Museum at Cantigny, the Pritzker Military Museum & Library, the Art Institute of Chicago, Columbia College Chicago, and the University of Illinois at Chicago.