Statue of slave trader Edward Colston was replaced in Bristol, UK with a sculpture of one of the protesters whose anger brought him down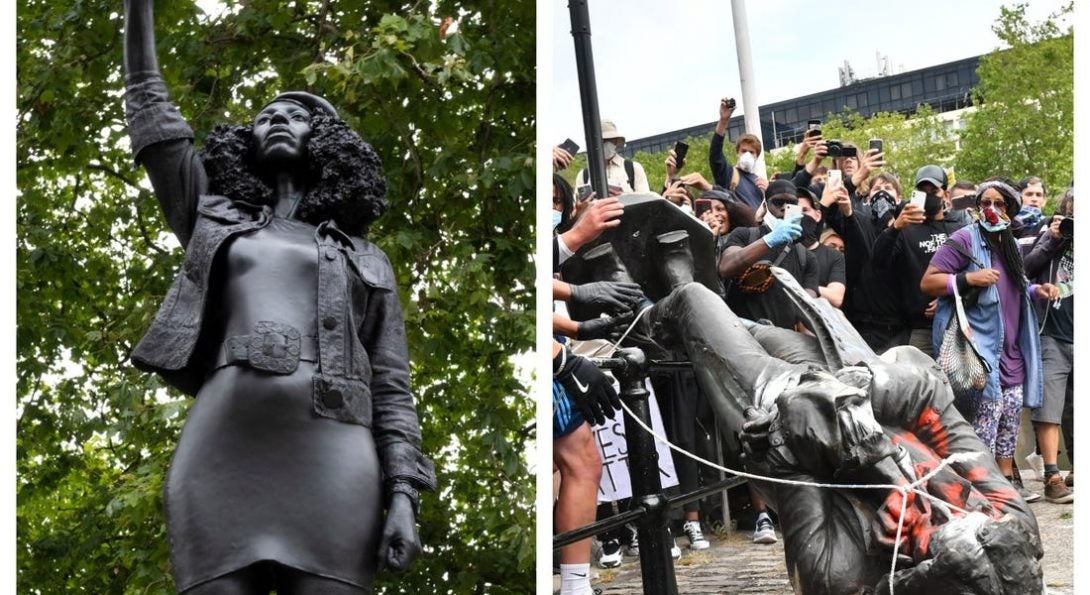 Artist Marc Quinn leads secret mission to install resin-and-steel figure of Jen Reid at site of toppled Bristol slave trader
The figure of Jen Reid, who was photographed standing on the plinth with her fist raised after the 17th-century merchant was toppled by Black Lives Matter demonstrators last month, was erected at dawn by a team directed by the artist Marc Quinn.
The ambush sculpture is likely to reignite the debate over public statuary in the UK that began with the toppling of the Colston figure five weeks ago. On Wednesday morning police said they had had no complaints and it was "a matter for Bristol city council".
Marvin Rees, the city's mayor, issued a statement saying that "the future of the plinth and what is installed on it must be decided by the people of Bristol". He said the sculpture was "the work and decision of a London-based artist," and added: "It was not requested and permission was not given for it to be installed."
But he stopped short of saying that the council would act to remove it.
https://www.theguardian.com/world/2020/jul/15/edward-colston-statue-replaced-by-sculpture-of-black-lives-matter-protester
Workers removed the resin-and-steel statue of Ms. Reid at dawn Thursday, 24 hours after it was put up, bringing a swift curtain down on an act of guerrilla art that attracted widespread attention but did not impress city leaders.
https://www.nytimes.com/2020/07/16/world/europe/bristol-statue-removed.html
Modified on July 16, 2020