Oct
22
2020
Panel Discussion: Enduring Traditions from Sacred Landscapes in the Ancestral Americas
Cornell College Dept. of Art & Art History and the Luce Gallery
October 22, 2020
7:00 PM - 8:30 PM
Address
Chicago, IL 60612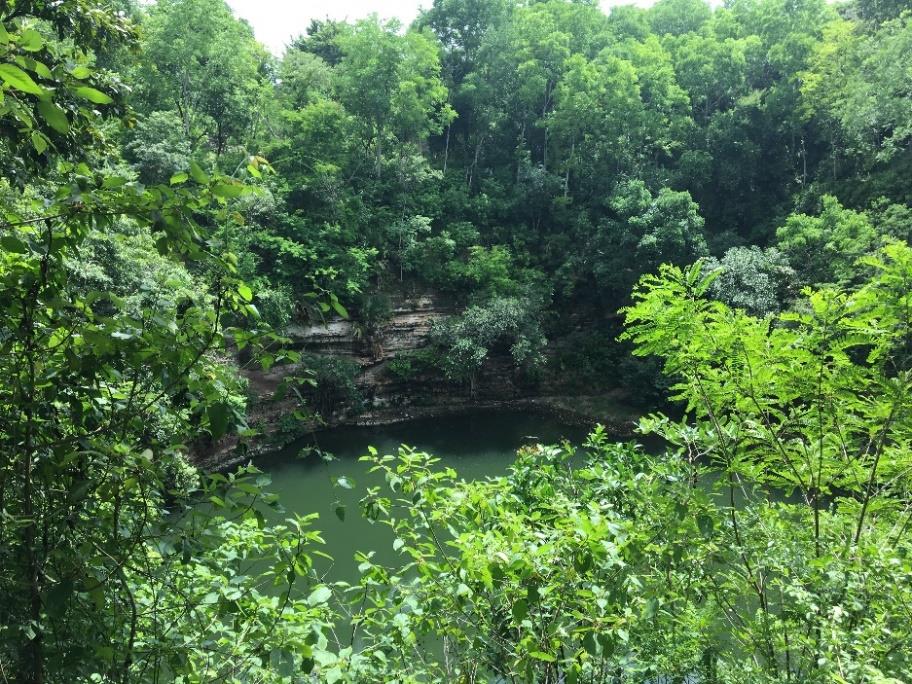 UIC Art History alumna Khristin Landry Montes, now an Assistant Professor of Art History at Cornell College, has organized a panel discussion titled "Enduring Traditions from Sacred Landscapes in the Ancestral Americas," to take place via Zoom on Thursday, October 22nd, from 7:00–8:30 pm CST. Those wishing to join are asked to email Sue Coleman for a Zoom link: scoleman@cornellcollege.edu.
What is a "sacred landscape"? How do artists, scholars, and activists think about stories and traditions from these spaces in different ways? What does it mean and what does it take to keep Indigenous traditions and sacred landscapes alive? Come find out! Please join us for a very exciting panel discussion focusing on enduring artistic and cultural traditions from sacred landscapes in the ancestral Americas. Comprised of Native and non-Native artists, scholars, and activists, this panel reviews the dynamic ways Indigenous Americans live within, interpret, preserve and protect Indigenous culture and sacred landscapes. This panel is part of the fall 2020 Art History course, "Sacred Landscapes of the Ancestral Americas" at Cornell College.
Panelists include:
Emil' Keme, University of North Carolina, Chapel Hill & the Maya Collective, Ixb'alamque Junajpu Winaq' in Iximulew (Guatemala)
Emil Keme (K'iche' Maya Nation; aka Emilio del Valle Escalante) is Associate Professor at the University of North Carolina at Chapel Hill. His teaching and research focus on contemporary Latin American literatures and cultural studies, with particular emphasis on Indigenous literatures and social movements, Central American literatures and cultures, and postcolonial and subaltern studies theory. He is the author of Maya Nationalisms and Postcolonial Challenges in Guatemala: (2009). Keme is the 2020 recipient of Cuba's prestigious Casa de las Americas Literary Criticism Prize for his book Le Maya Q'atzij/Our Maya Word. Poetics of Resistance from Guatemala.
Holly Wilson, Mustang, Oklahoma
Holly Wilson of Delaware Nation and Cherokee heritage is based in Mustang, Oklahoma. In 2001 she graduated with an MFA in sculpture and in 1994 she earned an MA in ceramics both from Stephen F. Austin State University, Nacogdoches, Texas; she received her Teaching Certification in K-12 Art from Cameron University in Lawton, Oklahoma, in 1993; and in 1992 she finished her BFA in ceramics at the Kansas City Art Institute. Wilson creates figures which serve as her storytellers to the world, conveying stories of the sacred and the precious, capturing moments of our day, our vulnerabilities and our strengths. The stories are at one time both representations of family history as well as personal experiences. Wilson's work reaches a broad audience allowing the viewer the opportunity to see their personal connection. Wilson has received recognition for her artwork through her inclusion in important exhibitions most recently, "Art for a New Understanding: Native Voices, 1950s to Now" that opened at Crystal Bridges Museum of Art. Wilson's work has also been included in exhibitions such as "Hear My Voice: Native American Art of the Past and Present" a traveling exhibition from the Virginia Museum of Fine Art in Richmond, Virginia. She was chosen to represent Oklahoma in the Museum Exhibition "Four by Four 2016: Midwest Invitational" at the Springfield Art Museum in Springfield, Missouri and "Expressions of Spirit" at the Wheelwright Museum of the American Indian. Wilson has received many awards, grants, and fellowships for her evocative sculptures, including a 2017 SWAIA Discovery Fellowship from the Santa Fe Indian Market and a 2015 Eiteljorg Fellowship from the Eiteljorg Museum of American Indians and Western Art. Wilson recently had a solo exhibition, "On Turtle's Back" that traveled from Museum of Contemporary Native Art, Santa Fe, NM to Dunedin Fine Art Center, Dunedin, Florida.
T. Christopher Hoklotubbe, Cornell College
Dr. T. Christopher Hoklotubbe (Choctaw) teaches courses on the intersection of race, gender, and sexuality in the Christian Tradition, the New Testament, Roman Religion, Native American Spiritualities, World Religions, and Religion and American Politics. He also co-leads interdisciplinary off-campus courses that explore the theme of pilgrimage along "El Camino de Santiago" in Northern Spain (Summer 2021, with Spanish), the topics of ancient philosophy, religion, politics, and archaeology in Greece and Turkey (Spring 2021, with Classics), and the history, art, and culture of North American Indigenous tribes (coming 2022-23, with Art History). Dr. Hoklottubbe's first book, Civilized Piety: The Rhetoric of PIETAS in the Pastoral Epistles and the Roman Empire and his upcoming work, "The Letter to Titus" bring together his interests in ancient archaeology, biblical scholarships, and postcolonial criticism. Dr. Hoklottubbe is currently applying for a grant to interview Indigenous theologians and leaders to co-write a work on Indigenous interpretations of the Bible.
Cassandra Smith, Pueblo of Isleta, New Mexico
Cassandra Smith is the Archivist at the Yonan An ("a long time ago") Cultural Center in the Southern Tiwa Pueblo of Isleta in New Mexico. She is also a Ph.D. Candidate in the Department of Art History at the University of Illinois at Chicago and a 2020-2021 Andrew W. Mellon Foundation Digital Knowledge Sharing Fellow at the American Philosophical Society Library and Museum Center for Native American and Indigenous Studies. Cassandra's dissertation is "Kiva Murals at Pottery Mound: A Consideration of a Trans-temporal Performativity in a Puebloan Life World," and her research focuses broadly upon the intersection of Native American art, Performance Studies, and Indigenous Studies. She holds a BFA in Studio Arts from the University of Tulsa, an MFA in Studio Arts from the University of Illinois at Chicago, a Certificate in Museum Studies from the University of Illinois at Chicago, and an MA in Art History from the University of Illinois at Chicago.
David Mora-Marín, University of North Carolina at Chapel Hill
David Mora-Marín is an Associate Professor in Linguistics at the University of North Carolina at Chapel Hill. A linguistic anthropologist by training, he specializes in the linguistic history and writing systems of indigenous peoples of the Americas, especially in the region known as Mesoamerica, as well as the connections of common descent and contact diffusion between Mayan languages and neighboring languages, such as the Mixe-Zoquean language family of the Isthmus of Tehuantepec, and the Chibchan languages from the Isthmo-Colombia region (eastern Honduras, Nicaragua, Costa Rica, Panama, Colombia). His work includes publications on the origins of Mesoamerican writing systems, the undeciphered Olmec writing system, the orthographic conventions of the earliest Mayan texts, the languages of ancient Mayan inscriptions, and the history of the Mayan languages. He is also studying the revitalization of ancient Mayan glyphs by contemporary Mayan activists in Mexico, Guatemala, Belize, and Honduras.
Khristin Landry Montes, Ph.D. (Art and Art History, Cornell College) and Ms. Xena Fitzgerald, M.A. serve as panel moderators. Dr. Landry Montes specializes in the art and culture of the Maya region of Mexico with secondary research expertise in the Aztec heartland of Mexico and the Andean world of South America. Fitzgerald received her B.A. from Grinnell College and her M.A. in Art History from Southern Methodist University. Her research focuses on the Viceroyalty of Peru and the artistic and cultural ties between Spain and the Andes, particularly concerning issues of familial legacy and geographical identity. The panel organizers and moderators would like to recognize that Cornell College is now located on the ancestral homeland of the Ioway and, as of 1800, the land of the Meskwaki Nation.
Date updated
Oct 16, 2020